Our call to action was bold

Our bottle art was rememberable

Ramon leads the charge

Fans loved to snap the OOH

Fan shared murals

More murals from fans

Espolon celebrates Mexico in the World Cup

Sorry, We're Open!

This guy's groupies were going to riot if he didn't win

Vice partnership included custom online 'zines, sponsored by ESPOLON

fan tattoo of Ramon
ESPOLON Tequila
developed for ESPOLON Tequila
#LetsStirThingsUp
While at BFG, I led the digital strategy for this new cult classic Tequila brand, and as the lead strategic agency we positioned the brand to ruffle some feathers in a crowded market.
I am proud to say I helped build this brand, as it was a truly integrated program.
Multi-channel efforts blended unique out-of-home murals into social media gold. Solid on-premise and bartender advocacy programs kept our street cred with tastemakers. Well-paired media partners, such as Vice and Thrillist, hooked us up with key influencers, drove reach, and provided truly unique native content.
But, most importantly, the ESPOLON twist. Our strong voice of Ramon and bold creative statements challenged the creative protagonists and makers out there. Jose Posada was the inspiration and #LetsStirThingsUp is the battle cry.
Through careful brand planning and a strong content strategy, the brand's social ecosystem grew over 475% since taking over the brand in August of 2013. Social sentiment for the brand was nearly perfect at a positive 96%. And, social growth wasn't the only reward, either… ESPOLON became (and remains) the fastest growing brand in the Campari America portfolio.
Maybe even more important is the brand love… fans go nuts for ESPOLON and shared plenty of tattoos with us!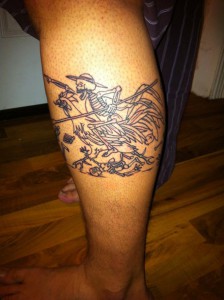 Client -

ESPOLON Tequila

Date Completed -

2013-2014

Skills/Tools Used -

Brand Strategy, Social and Digital Strategy, Content Strategy, Experiential Events
View project