Domestic Violence Awareness: Share the Story of the PAWS Act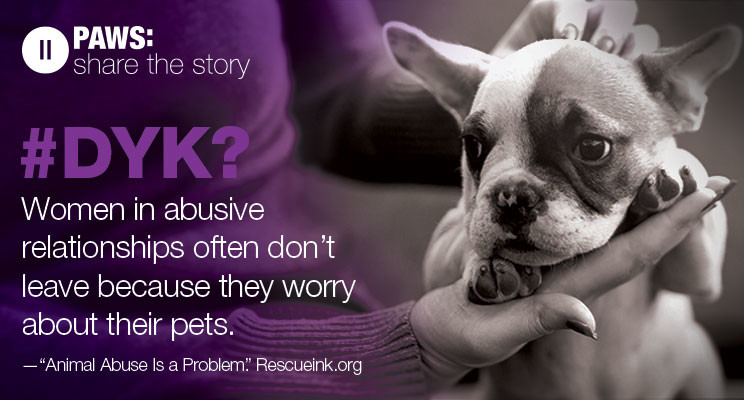 October is Domestic Violence Awareness Month and I'm sure you will see many ads, articles, and stories throughout the month telling the sad tales and stats around domestic violence.
This, too, is one of those campaigns; however, this was an aspect of domestic violence that I was unaware of, until I started researching the subject for my client in order to determine the direction the campaign would take.
If you remember the hashtag #WhyIStayed that started trending after the Ray Rice incident video was released in 2014, then you may have seen some of the deeply emotional and tragic reasons why survivors stayed in abusive relationships. My ad agency compadres will also remember the bonehead DiGiorno tweet, but that is fodder for a different topic. The hashtag was started by Beverly Gooden, a writer, with the tweet below.
I tried to leave the house once after an abusive episode, and he blocked me. He slept in front of the door that entire night. #WhyIStayed

— Bev Gooden (@bevtgooden) September 8, 2014
Many more followed…
I honestly don't know #WhyIStayed as long as I did. I was embarrassed and in denial.

— Chillian J. Yikes! (@jilliancyork) September 9, 2014
#whyistayed b/c he never hit me and I didn't think verbal abuse and emotional manipulation was considered an abusive relationship.

— Cathusiast (@cathusiast) September 9, 2014
There are a lot of reason why people don't leave or get help in domestic abuse situations. One of them is the fear of their pet's safety. This should seem so obvious to a pet lover like myself, but it never occurred to me, and yet this is a huge problem.
This study says up to 65% of domestic violence survivors don't seek safety because they don't want to leave their pet. Most women's shelters don't accept pets, much less have facilities to care for the pets, therefore a tough choice has to be made.
Up to 65% of domestic violence survivors don't seek safety because they don't want to leave their pet. — Dr. Michael Roguski with Kaiitiaki Research and Evaluation
PAWS: Share the Story is a campaign for survivors of domestic violence and their pets. The goal of the campaign is to spread awareness of the lack of domestic abuse shelters that can house and care for pets, along with the survivors. Additionally, the PAWS Act (H.R. 1258) is a proposed bill providing protection to all survivors of domestic violence, including pets, that you can also show your support for on the site.
Please take a moment to watch and share the video, share this post with friends and family to help raise awareness of this issue, and help break the cycle of domestic violence.
Visit www.petandwomensafety.com to help raise awareness and support.
Thank you for reading and I welcome your comments below.